The York Ebor Festival continues on Friday 23rd August 2019, as the four-day meeting heads into it's third day.
Four more LIVE ITV races to take in, including the Group Two Lonsdale Cup, but day three is all about the Group One Nunthorpe Stakes as we get a chance to see some of the best sprinters on the planet doing battle again – did you know 15 of the last 17 Nunthorpe winners came from stall 11 or lower, plus finished in the top 5 last time out?
As always, we'll be on-hand throughout the whole meeting to take you through the key trends for each day's LIVE ITV races.
=====================================================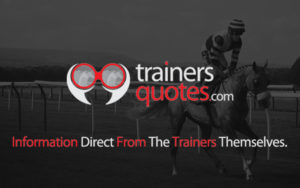 =====================================================
DAY THREE – Friday 23rd August 2019
1.55 – Sky Bet Stakes (Handicap) Cl2 1m4f ITV
15/16 – Aged 5 or younger
15/16 – Had won over at least 1m2f before (6 over 1m4f)
14/16 – Had 3 or more runs already that season
14/16 – Had won at least twice on the flat before
12/16 – Carried 9-5 or less in weight
12/16 – Won from stall 8 or higher
12/16 – Aged 3 or 4 years-old
8/16 – Ran at either Goodwood (4) or Newmarket (4) last time out
5/16 – Trained by Sir Michael Stoute (3) or Mark Johnston (2)
3/16 – Winning favourites (2 joint)
Titus (8/1) won the race in 2018
RACING AHEAD VERDICT: Tough race to get day three going, but some fair trends. A massive 15 of the last 16 winners were aged 5 or younger so of the 20 runners that rules out a few – Gibbs Hill, Scarlet Dragon, Hermoso Mundo, Restorer and Speed Company. With 14 of the last 15 winners having races 3 or more times on that season too this is another trend to note, while 12 of the last 16 carried 9-5 or less in weight – that weight stat rules out the top three on the card – Gibbs Hill, Epaulement and Scarlet Dragon. Being drawn 8 or higher is another trend to look for – 12 of the last 16 winners fit that stat. 3 and 4 year-old seem to have then best records too – so taking all these trends into account the Jedd O'Keefe runner – JAZEEL (e/w) – certainly ticks a lot. He was a close runner-up at Goodwood last time out and despite being up 3lbs for that is a consistent sort that looks sure to run his race again. Jamie Spencer is in the saddle again and from his three rides on the horse he's yet to finish out of the first two on him. Another that's sure to be popular is the Gosden/Dettori runner – Corelli. It's hard to crab his chance and ticks a lot of the main trends too, but he just might not be great value in a race with 20 runners in. Mark Johnston has a good record in the race too, so despite being drawn low his PERSIAN MOON (e/w) might be worth chancing too. He's a course winner that is dropped a pound for his last run (6th of 13 at Goodwood). But he gets in here with a much lower weight (11lbs less) than last time and his two runs here at York were both good ones (1st and 3rd). That third actually came in the Group Three Acomb Stakes last season behind the subsequent Irish Guineas winner Phoenix Of Spain. Of the rest, Eynhallow, Anythingtoday, Mandarin and the other Johnston runner – Aquarium – are others to consider.
2.25 – Weatherbys Hamilton Lonsdale Cup (British Champions Series) (Group 2) Cl1 2m88y ITV
13/15 – Priced 8/1 or shorter
13/15 – Had 4 or more career wins
12/15 – Didn't win last time out
12/15 – Had won over 1m6f or further before
11/15 – Raced 3 or more times that season
11/15 – Favourites placed
11/15 – Finished in the top 4 last time out
10/15 – Won a Listed or better class race before
9/15 – Aged 4 or 5 years-old
9/15 – Had run at York before (7 won)
4/15 – Ridden by Frankie Dettori
0/15 – Winners from stall 1
Stradivarius (4/11) won the race in 2018
Note: The 2008 renewal was run at Newbury
RACING AHEAD VERDICT: Some fair Irish challengers here in the shape of Falcon Eight and Il Paradiso, but really it will be a shock if the two that fought out the Goodwood Cup last month – STRADIVARIUS and Dee Ex Bee aren't doing the same here. The last-named made the million-pound horse – Stradivarius – pull out all the stops last time to keep his unbeaten run going so is sure to have it's supporters again. But, that's the second time this season Dee Ex Bee has seen the back of the Gosden runner and it should be more of the same here. Stradivarius took this prize last year for the final leg of his £1m bonus and having landed the same races this season, there's a lot at stake again. Those looking to take him on will cling to the fact he's got to give away 3lbs to Dee Ex Bee this time too and with that pull it actually makes Dee Bee Ex the one to beat on the ratings – by a pound! However, Strady always seems to pull it out of the bag and won this Group Two carrying a penalty last season too.
3.00 – Al Basti Equiworld Gimcrack Stakes (Group 2) (Colts & Geldings) Cl1 6f ITV
16/16 – Won just 1-2 times before
15/16 – Raced within the last 6 weeks
13/16 – Returned 8/1 or shorter in the betting
13/16 – Finished in the top 3 last time out
11/16 – Won just once before
11/16 – Foaled in March or later
10/16 – Had won over 6f before
10/16 – Came from the top 3 in the betting
4/16 – Trained by Kevin Ryan
3/16 – Trained by William Haggas
2/16 – Winning favourites
Emaraaty (5/1) won the race in 2018
RACING AHEAD VERDICT: Some nice 2 year-olds in the making here, but the Richard Hannon runner – THREAT – sets the standard having run a close second in the Richmond Stakes at Glorious Goodwood last time out. Prior to that was also  runner-up in the Coventry so is holding his form at this Group Two level well. The Aidan O'Brien runner – Pistoletto – can't be discounted either, while the unbeaten Malotru and hat-trick seeking Spartan Fighter are others that can go well. However, the Kevin Ryan camp have a good record in the race so his three – Repartee, Byline and ABSTEMIOUS (e/w) – might be worth a small interest too. Both won well last time out, but the latter was especially impressive when winning over this course and distance last time out. He made all that day to win hard held by 5 lengths and Jamie Spencer remains in the saddle. Yes, this is a big step up and that did come on softer ground, but he did it well enough to suggest he's a useful sort.
3.35 – Coolmore Nunthorpe Stakes (British Champions Series) (Group 1) Cl1 5f ITV
15/17 – Finished in the top 5 last time out
15/17 – Had won over 5f before
15/17 – Came from stall 11 or lower
14/17 – Had an official rating of 108 or more
13/17 – Favourites to finish in the top 4
13/17 – Had run at the course before
11/17 – Were previous Group race winners
7/17 – Ran at Goodwood last time out (inc 6 of last 9)
4/17 – Winning favourites
2/17 – Ran at Sandown last time out
2/17 – Placed horses from stall 1 (3rd in 2003 & 2012)
6 of the last 8 winners were fillies/mares
Alpha Delphini (40/1) won the race in 2018
RACING AHEAD VERDICT: We had a shock 40/1 winner in this race last year so it's certainly possible. The likes of Soldiers Call, El Astronaute, Copper Knight, So Perfect, Garrus and Fairyland will be the ones trying to cause the minor upset here, but really it will be a surprise if this isn't going to Ten Sovereigns, Battaash or last year's runners-up MABS CROSS. The O'Brien-trained Ten Sovereigns is the one to beat on the ratings as he's only a pound lower than Battaash and gets 2lbs. He was a good winner of the July Cup last time too at HQ and looks to be finding his feet as a sprinter now after being tried over further in the 2000 Guineas back in May – he's a big player. Battaash will also be popular but his last three runs into Group One class this season have seen him beaten each time – that would be a worry. He was also beaten 2 ½ lengths in the race last season and is overall York form is pretty poor for a horse is his quality (4th twice from 2 runs). So, the value in the race looks to be MABS CROSS (e/w). This 5 year-old was runner-up 12 months ago – beaten just a nose and his yard have also won this race twice since 2015. She's a very consistent mare that has only finished out of the top three on three occasions from her 16 career runs. Gerald Mosse takes over in the saddle, but he's 1-from-1 on the horse after winning the Prix de l'Abbaye at Longchamp last October.
=====================================================
**TRAINERS-QUOTES.COM**
GET TOP STABLE INFO FROM 19 LEADING YARDS
DELIVERED TO YOUR IN-BOX DAILY
INFO THE BOOKIES HATE & INFO THAT COMES DIRECT FROM
THE TRAINERS THEMSELVES! JOIN TODAY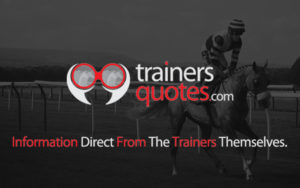 =====================================================
The post York Ebor Festival Trends: DAY THREE (Fri 23rd Aug 2019) appeared first on Racing Ahead.